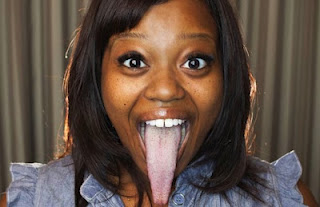 Chanel Tapper aged 21, has won the 2012 Guinness World Record for having the longest tongue in the world. Chanel's tongue is 9.75 cm (3.8 in) long.
Chanel first got famous when she was 13 years old, through sticking out her monster long tongue in a YouTube video.
In September 2011 Guinness invited Chanel to Los Angeles where they measured her tongue and she beat two other women to the record.
Chanel loves her long tongue.
Chanel said: "I have always been silly and goofy. I love sticking my tongue out at people.
I started doing that back in school. I've never had a problem with having a long tongue, it's just fun."
Watch Chanel exhibiting her long tongue below.
What are the 7 pluses of having a long tongue? Share your opinion below.